Compton Acres offers 10 acres of historic grade II listed gardens dating back to 1924. The whimsical design includes gorgeous themed gardens set out on a circular route like jewels on a necklace. Your journey starts with the elegant splendour of the Italian Garden overlooked by the imposing Italian Villa where your wedding will be held. Take full advantage of this magnificent formal garden with an al fresco drinks reception, and set the scene for a truly magical wedding day.
PRESTIGIOUS AWARD-WINNING VENUE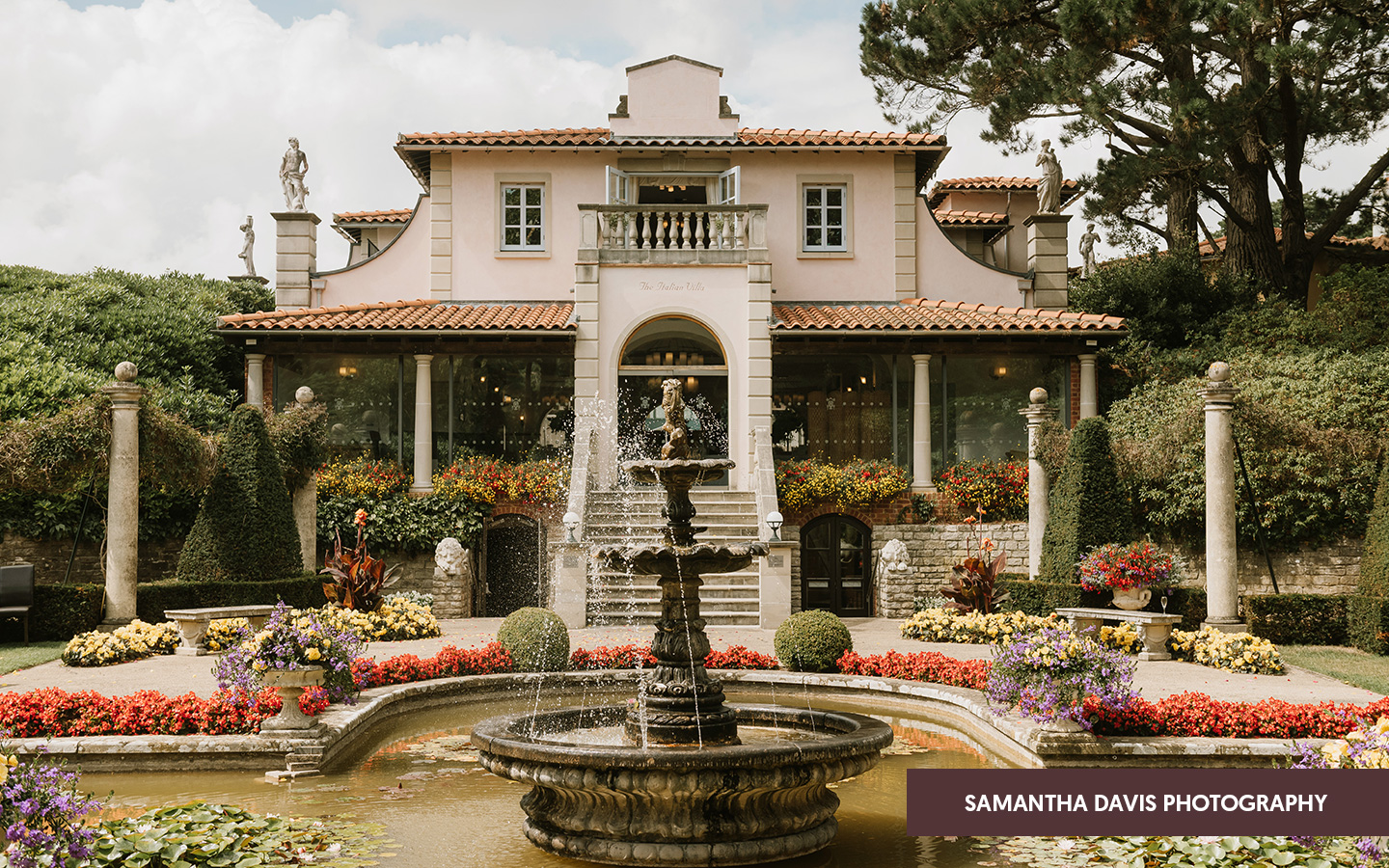 Nestled between Poole and Bournemouth near the exclusive area of Sandbanks, 'The Italian Villa' is set within the beautiful grade II listed gardens and grounds of Compton Acres. This prestigious award-winning venue features three floors of elegant suites, meticulously designed to give your special occasion the most stunning setting.
The multi award-winning venue provides 3 floors of unrivalled elegance for your dream event. The beautiful setting along with a balcony overlooking the breath-taking Italian Garden will ensure your wedding photographs will be truly unforgettable.
When you book The Italian Villa, the stunning venue becomes exclusively yours for the entire event. Superbly spaced over three floors, the grand Villa gives couples a true fairytale wedding venue, and businesses the ultimate place to celebrate with clients and staff. You can also enjoy use of the gorgeous Italian Garden as an outside entertaining space. Our team's impeccable standards ensure that every guest will feel like a VIP.
The Villa can cater for small events (corporate events from 30 guests, intimate wedding receptions from 65 guests), or can provide a relaxed setting for up to 180 guests for a sit down reception or 250 guests for a standing event. Well-appointed with lifts to all three floors, air conditioning, built in sound systems and speakers, a stage, and audio-visual screens, The Villa's superb facilities enable you to theme or create a truly memorable occasion.
A TRULY SPECIAL VENUE
The Italian Garden is an impressive structure, scale and formality so important in Italian design. This was one of the first gardens built by Mr Simpson in 1924 and early pictures show excavation work being carried out by hand with barrows of soil being pushed up wooden planks to form the high banks around the garden. Symmetry and formality are the prime characteristics of the Italian Garden, which is arranged around the cross of the central ornamental lake, with its carved stone fountains, exquisitely coloured water lilies and flashing shoals of Koi Carp to delight the eye. At each end of the lake there is a statuary that compels attention. At its head, the famous bronze Wrestlers of Herculaneum face each other in perpetual competition. Behind them, York Stone steps lead up to the terrace on which stand two ornate Venetian bronze lanterns, bearing the winged lions of St. Mark, patron saint of Venice. Below there is a central stone grotto housing a bronze bust of Mr. J. Stanley Beard the second owner. Dominating the far end of the lake is the domed temple of Bacchus supported on stone pillars and 'the Roman god of wine' is beautifully sculptured in Carrera marble. Arranged around the central lake are formal grass bordered beds massed with tulips in spring and replaced with summer annuals at the end of May. Permanent planting is backed by 32 columns of weathered Bath stone, rhododendrons form a massed background of dark foliage and protect the gardens from all inclement winds, while letting in all available sunshine.
Enter the enchanting Grotto under an impressive Bath Stone archway leading into this delightfully unique stone lined walkway, maintained for many years as a living tunnel. Leading through to the expertly maintained Italian Garden, its distinctive walls can be lit with hundreds of candles for a magical and atmospheric entrance.
Venue Details
The Italian Villa,
Compton Acres, 164 Canford Cliffs Road,
Poole, Dorset,
BH13 7ES, England