"A hidden gem in Gloucestershire"
 A beautifully converted wedding barn with accommodation on a working dairy farm. 
Run with love…
A family run wedding venue with a relaxed feel. Allowing you to create your dream barn wedding.
Exclusively yours…
Our packages have a minimum of 2 nights in our beautiful converted barns. Which means Milton End is yours from the second you arrive to the second you leave. 
In the countryside…
Situated on a working dairy farm in Gloucestershire. You will be greeted by our lovely ducks, alpacas, pigs and everyone's favourite Dominic the Donkey. 
Weddings at Milton End
The rustic barn at Milton End Farm has been reimagined to accommodate relaxed yet refined wedding occasions.
Whether you are planning a micro wedding for 25 loved ones or a lavish affair for 200, this beautiful barn can be reimagined to reflect your vision.
Couples can enjoy exclusive use of the farm and grounds for four days, with plenty to see and do on this active farm.
Guests can mingle with the many ducks, goats, and sheep throughout the day, as the friendly farm animals are happy to be a part of your celebrations.
The exposed red-brick exterior of the barn and outhouses exudes traditional charm while inside, wooden accents, natural greenery, and voile drapery lend a splendid aesthetic.
There is ample parking on-site and complimentary WiFi for all your entertainment needs.
Are you Ready to get Married?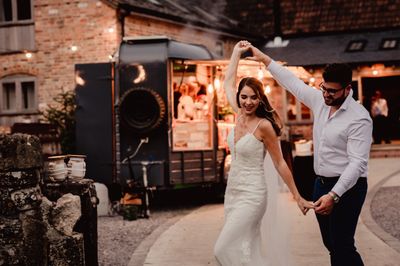 Your wedding coordinator will of course help you with your planning and who to contact and when. It is important to make sure that you consider what sort of marriage you would like. We have provided you with information on these below.
At Milton End we only have a couple of requests as we would like you to have as much freedom as possible when planning your wedding day. We request that you use one of our recommended caterers who are listed on our website. 
Our caterers offer something for everyone and it is one of the most important elements of your day, everyone will remember the food! 
Contact Details
Email us at info@miltonend.co.uk
Get in touch with one of our wedding coordinators:
Rebecca: Rebecca@miltonend.co.uk
Holly: Holly@miltonend.co.uk
Milton End Weddings
GL2 7JH, Gloucester, Gloucestershire, England, United Kingdom