After yesterday's wedding at Staunton Harrold Hall, we travelled across the country and then headed once again North to Preston. This bought us to Wryesdale Park for the beautiful wedding of Tasha and Stephen.
Finding ourselves once again in a Premier Inn on the outskirts of Preston for the second time in 5 days, we were ready in plenty of time for todays delightful wedding at Wryesdale Park.
Wedding Ceremony
Starting with the ceremony, our role today was to provide music for the wedding ceremony and then a short drinks reception afterwards. Today the weather dictated that everything was indoors.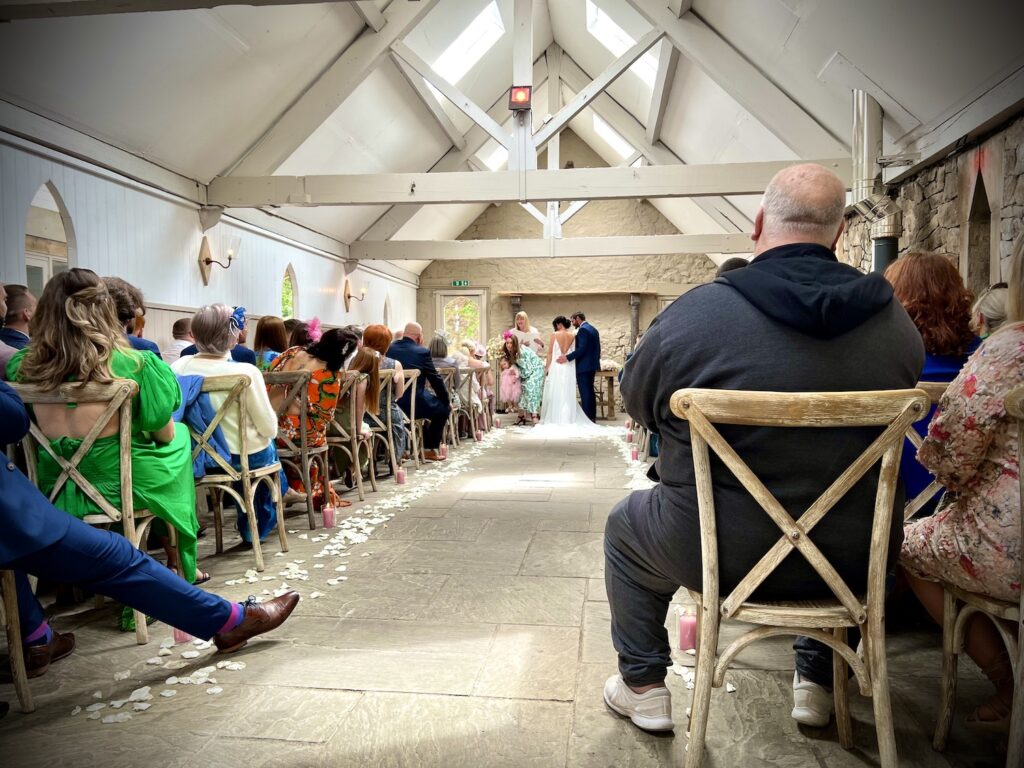 Setting up at the back we had a good view of the wedding ceremony – although this was a sneaky shot from the piano as technically photos weren't allowed!
We had arranged and learnt some new songs for todays wedding – this is a free service we offer to all our wedding couples. There's loads of inspiration on our listen page, but ultimately as professional musicians we will play anything you like! Well, within reason! There are a few songs which simply do not translate to cello and piano, but these are very much in the minority. The bottom line is, provided there is some sort of sung tune with accompaniment then we can play this for you!
Wedding Drinks Reception
After the ceremony we quickly moved our piano shell and instruments to the room next door and found ourselves on a stage! Whilst the room wasn't small, there were quite a lot of wedding guests, and also quite a lot of beer! So it was definitely the right choice to use our electric cello with the Bose Speaker so we could ensure we were heard!
We played through a range of new and contemporary repertoire whilst the guests enjoyed drinks and canapés. Of course, as with most drinks receptions, the bride and groom were often out and about being photographed, but we do hope that Tasha and Stephen heard and enjoyed us playing the songs we had chosen.
Unfortunately on this occasion we didn't manage to catch the Newly Weds for a 'group photo' but we wish them every happiness in their future married life together.