The venue for Jess and Ainsley's wedding on Saturday 15 April 2023 was Waterton Park Hotel just on the edge of Wakefield.
This meant a trip up the M5 and M1 for us from our home in the Cotswolds but with the ceremony starting at 2.30pm we also had plenty of time. Nevertheless you never quite know how many other people will be on the road on a Saturday morning so we allowed plenty of time, also this meant we could stop for breakfast en route.
Arriving at the Waterton Hotel around 12 noon we carried our instruments across the bridge to the main entrance of the hotel which had been beautifully decorated with blue and yellow ribbons.
With plenty of time on our hands after setting up in the ceremony room, we made our way to the hotel restaurant where they served us a rather fine lunch! Definitely a perk of being early!
Once fed and watered we made our way back up stairs for the wedding ceremony which was the first part of our job for today.
Jess entered to one of our blends of two songs whereby the bridesmaid and the groom walked in first followed by Jess after we merged into her second song choice. This is an increasingly popular choice with our brides and makes the start of the ceremony even more personal.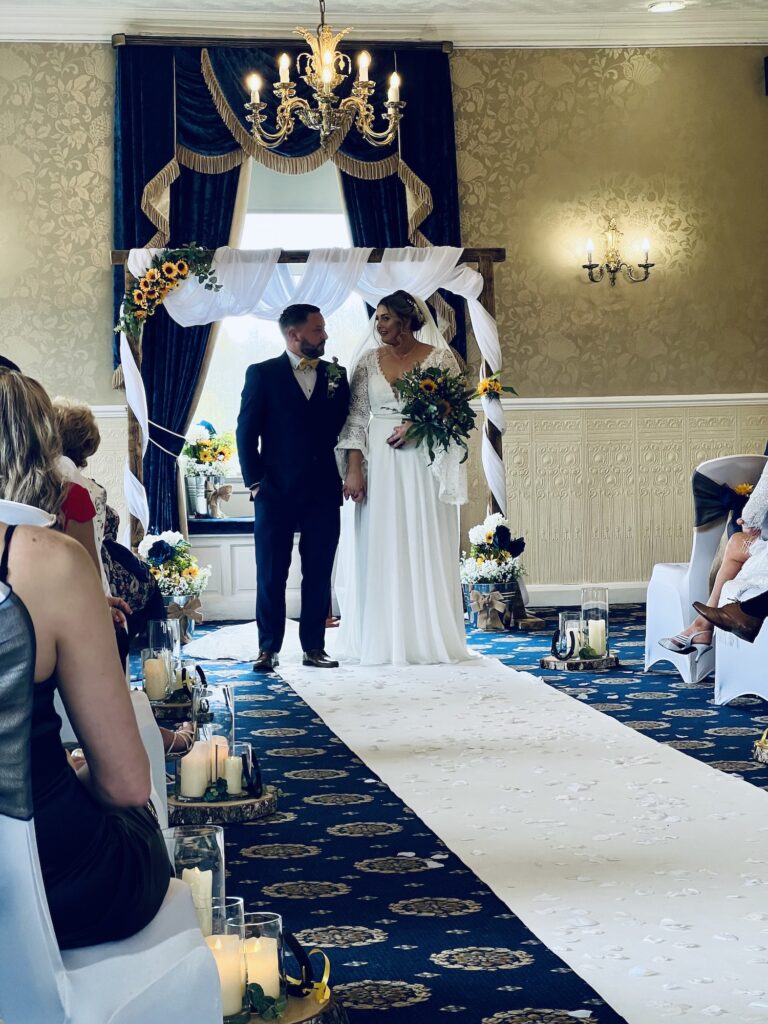 Ceremony Music Choices
Pre Ceremony
My way – frank sinatra
The scientist- Coldplay
Your song – Elton John
All of me – John legend
Can't help falling in love – Elvis
Bridal Entrance
Blend of 2 songs:
Million dreams – greatest showman
Thousand years – Christina perri
Signing
Amazed – lone star
Better together – jack Johnson
Exit
Unchained melody – righteous brothers
Drinks Reception
After the ceremony we moved downstairs for the drinks reception. With uncertainty in the weather we were advised by the hotel to set up indoors which we did but ensured the windows and doors were open so our music would carry around the hotel as guests dispersed into various rooms.
Nevertheless we did gather quite a crowd and also took several requests for songs including Viva La Vida and Wildest Dreams by Taylor Swift, the latter of which you can hear on our listen page.
We really enjoyed being part of Jess and Ainsley's wedding in this stunning Yorkshire venue and we wish them every happiness in their future married life together.