Today was our first visit to Banwell Castle, situated not surprisingly in the Somerset Village of Banwell. Whilst this is not particularly far from our home in the Cotswolds, we set off a little early with a view to finding some lunch ahead of the wedding. A ceremony start time of 3pm meant we had plenty of time to find somewhere but in fact ended up about 200 yards from the venue in Banwell Garden Centre.
But before you scoff and accuse us of turning into beige retired people, it was in fact really rather good. The sun was shining and so we could sit outside and enjoy a spot of lunch knowing that we were already pretty much at the venue for todays' wedding.
Upon arrival we made our way through the arched entrance into the castle and quickly located the ceremony area. We already were prepared for an outdoor ceremony and drinks reception and the weather was looking very promising for both of these to go ahead!
Planning for a hot summer we have also recently invested in a stylish creme parasol to create some shade when we are playing for outdoor drinks receptions which saw its first usage today.
Music for the Ceremony
Pre Ceremony
River Flows in You
Yellow
Jupitar from the Planets
Beneath Your Beautiful – Labrinth
Bridal Entrance
Canon in D
Signing
Turning Pages
One Day Like This – Elbow
Exit
Hoppipolla
You can hear a lot of these tracks by heading over to our listen page.
The ceremony took place in a beautiful courtyard which if you didnt know any different could easily have been a lovely part of Tuscany!
A brief history of Banwell Castle
Banwell Castle is a Gothic Revival mansion in the village of Banwell, Somerset, England. It was built in the 1840s by John Dyer Sympson, a London solicitor, as a family home. The castle is a Grade II* listed building.
The land on which the castle is built was originally owned by the Bishops of Bath and Wells. In 1753, it was sold to John and Joan Landown. In 1837, it was purchased by Symon Sympson. His son, Joseph Dyer Sympson, built the castle on the site of a former manor house. The castle was completed in 1847.
From 1854 to 1874, the castle was let to Henry and Elizabeth Ellen Pigou. In 1883, it was sold to Sir William Baker. The Baker family owned the castle until 1963, when it was sold to Simon and Phillipa Wills. In 1976, it was purchased by Charles Skilton and Jean Desebrock. In 1988, it was purchased by William H. and Hugh A. Parsons.
The Parsons family still own the castle today. It is open to the public as a hotel and restaurant. The castle grounds are also open to the public and offer stunning views of the surrounding countryside.
Banwell Castle is a popular tourist destination and is a Grade II* listed building. It is a beautiful example of Gothic Revival architecture and is a fascinating place to visit.
Wedding Drinks Reception
After the ceremony we traversed the car park and made our way to the rear of the castle for the outdoor drinks reception. This is where our sun shade came into play and did a rather good job! Nothing like planning ahead!
Setting up on the terrace we continued to provide music for the duration of Donna and Wayne's Drinks reception whilst guests enjoyed Pimms sat outside in the Somerset afternoon sunshine.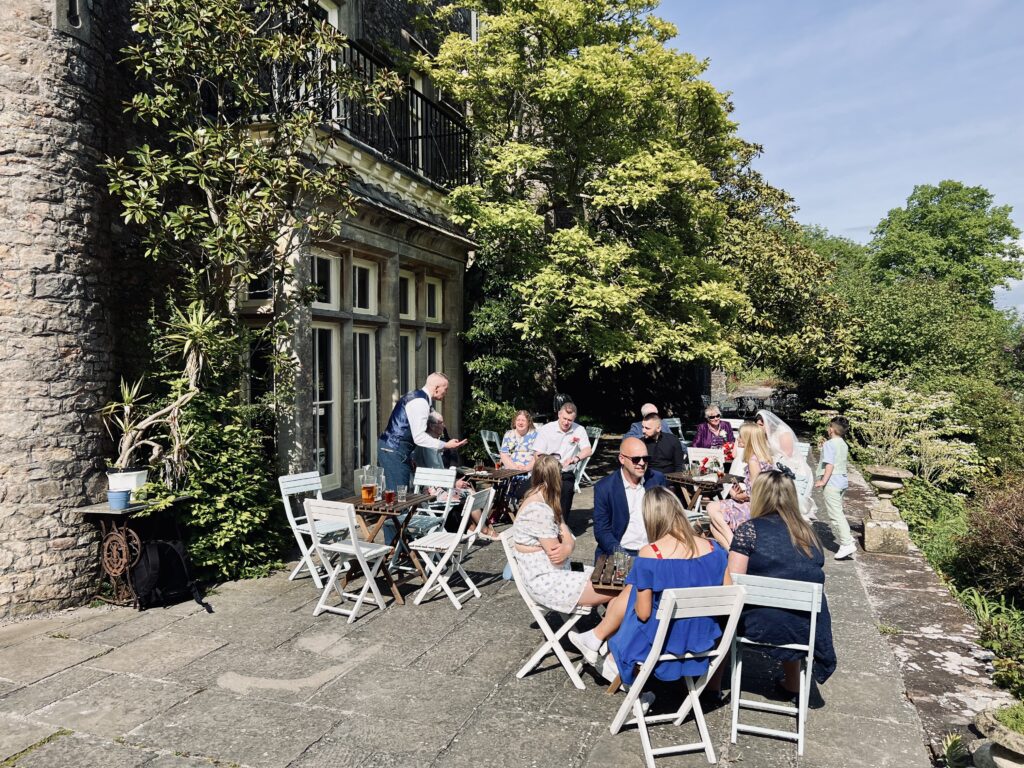 We really enjoyed being part of Donna and Wayne's wedding day and we wish them every happiness in their future married life together.