Today we were in Devon for the beautiful wedding of Cindy and Joe at Brickhouse Vineyard which is just South of Exeter.
Just a stone's throw from Exeter, Brickhouse Vineyard sits amongst rolling hills, patchwork fields and miles of wild woodland that seems to stretch on forever. With the endless views, unspoilt backdrop and vines that have been harvested from scratch, this rural Devon wedding venue has the rare ability to allow you to escape, so that you feel like as though you are worlds away from anywhere. Just for the day, but you'll find a day is all you'll need.
The Ceremony
Taking place in the Round House the ceremony featured some lovely music which we were only too happy to play. As the guests gathered Cindy and Joe had chosen some great songs for us to perform which included:
– My Immortal (Evanesence)
– Nothing Else Matters (Metallica)
– Another Love (Tom Odell)
– Lord of the Rings – The Shire and May it Be
– Strange (from Bridgerton)
This was then followed by Cindy's bridal entrance (preceded by her dog Roxy, but more on that later!), where we played a Thousand Years by Christina Perri.
After what was quite a short ceremony, Cindy and Joe's triumphant exit was to our arrangement of Sweet Disposition by The Temper Trap. However, their 'exit' was somewhat short lived as, true to form, the British Summer had decided to go on holiday and, for today at least, had been replaced by torrential rain.
The Drinks Reception
The weather meant that the drinks reception was also held in the Roundhouse and so once the amazing venue team had done a quick turn around with some chairs, we carried on playing music as guests enjoyed drinks and canapés.
For this part of their celebrations Cindy and Joe had chosen the following songs:
– Tale as Old as Time (Beauty and The Beast)
– Love Story (Taylor Swift)
– Accidentally in Love – Shrek (Counting Crows)
– Sign of the times (Harry Styles)
– Young and Beautiful (Lana Del Ray)
– Beautiful Girls (Sean Kingston)
– Shallow (A Star is Born) Lady Gaga & Bradley Cooper
– Dreams (Fleetwood Mac)
– Can't Take My Eyes Off You (Frankie Valli)
– Lets Stay Together (AI Green)
– How deep is your love (Bee Gees)
– Together in Electric Dreams (Human League)
– Africa (Toto)
– All The Small Things (Blink 182)
– Mr Brightside (The Killers)
We love it when couples choose the music for their wedding day. Not only does this make our job easier on the day but it gives us a chance to always vary the repertoire we are playing on a daily basis and also include some songs which we don't play that often.
We also love seeing dogs at weddings. Whilst we don't have a pet of our own, Jules is somewhat obsessed with Dachshund's and so maybe one day…. Today we met Roxy, who whilst not a Dachshund, was the couple's Hound who played a very important part in their wedding day. Jules therefore decided he wanted a piece of this action….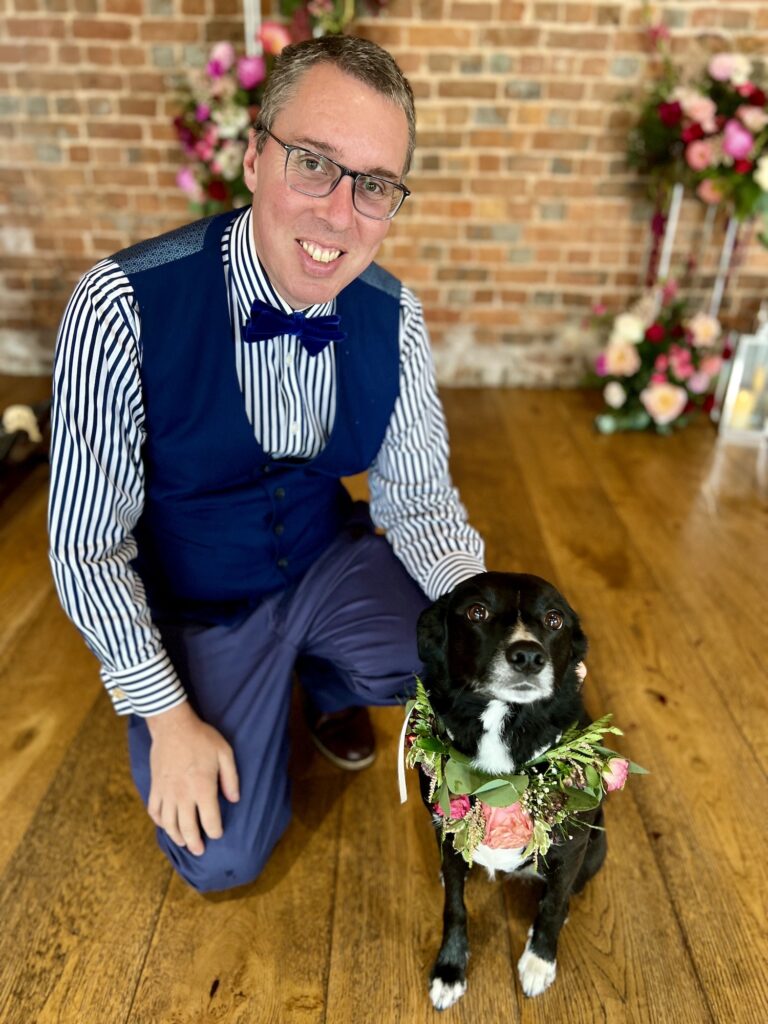 We really enjoyed being part of this delightful, intimate wedding and wish Cindy and Joe every happiness in their married life together.