JAM Duo can really enhance your corporate event with live music. We realise, however that entertainment can really make or break an event. And so when you think about the type of entertainment you want it is is important to first understand the purpose.
We do not pretend to be a swing band or a Show Spectacle / big finish. Rather we are the stylish background entertainment you might look for during a drinks reception or smaller event.
JAM Duo are the perfect Background Entertainment
Imagine the gentle sounds of light jazz or classical melodies gracefully filling the room, instantly adding an air of elegance and refinement. Such carefully curated background music creates a comfortable and inviting environment that allows your guests to fully enjoy the evening.
By ensuring that your guests feel at ease, they are more likely to engage in socializing and make meaningful connections, enhancing their overall experience. Our background music selection is thoughtfully designed to complement different stages of your event, be it the welcoming of guests, dining, or a delightful cocktail reception.
Allow us to help you create a memorable and enjoyable atmosphere with our expertly chosen background music. Contact us today to discuss how we can tailor our services to meet your specific needs and make your event an exceptional one.
Corporate Drinks Reception
Whether you are holding a conference or perhaps inviting customers and suppliers to a new product launch or grand opening event, the chances are, your event will most likely start with a drinks reception.
Guests arrive and are handed a glass of bubbly (or their choice of non alcoholic beverage) and the evening begins with an hour or so of general mingling and business networking. This is an ideal time to have some live music. Not only will it add a touch of style to your event but some relaxing music in the background will help create the right ambience for your guests and delegates to relax and chat to one another.
Formal Dinners
Whether you are having a Company Christmas Dinner or it is a formal Military Dinner night at one of the many Barracks and MOD sites across the UK, JAM Duo can provide the right blend of music to add a touch of style to your event.
We are experienced playing at a whole range of formal dining occasions whether at one of London's top hotels or perhaps at an Army Barracks in Wiltshire. No matter where your event is being held, you can be assured JAM Duo will provide the perfect musical backdrop.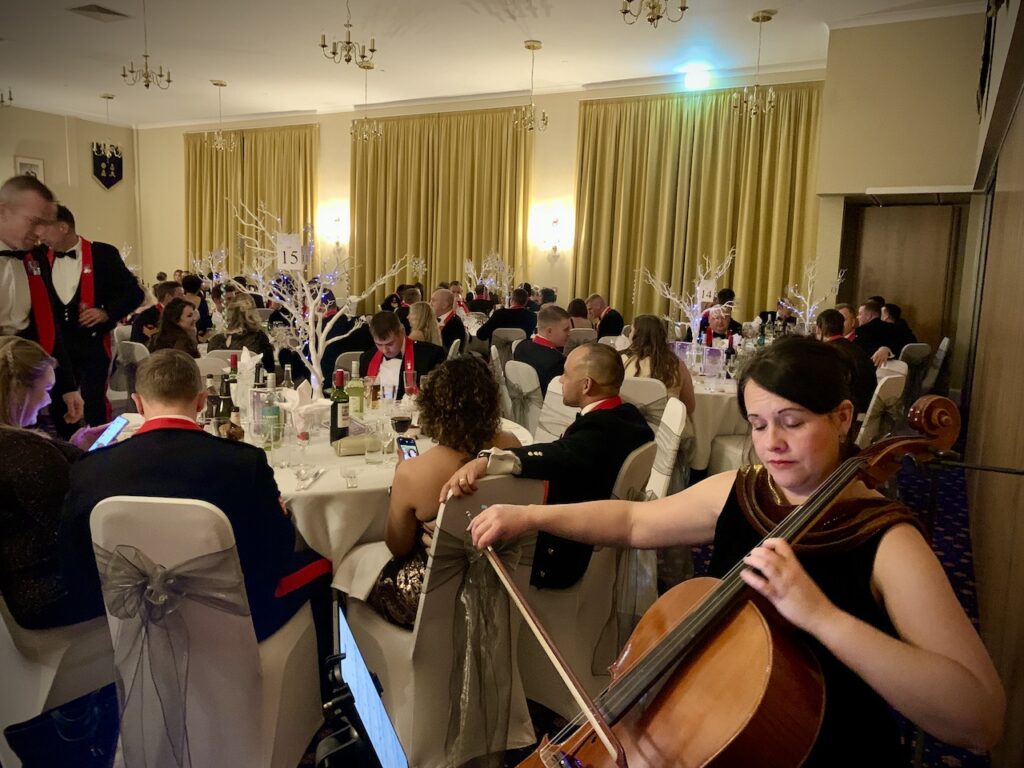 Talk to us about your corporate event
JAM Duo would love to hear about your next corporate event. It might be a product launch, your annual conference or the staff Christmas Party. Whatever the occasion, JAM Duo can add a touch of elegance to the occasion by bringing beautiful music to your event.
To find out more please get in touch via our contact form.
Some Clients who have trusted us
See also….
Hear us play
Private Parties
Download our Brochure
You were amazing, you really brought and added to the ambience. Truly Wonderful! Please come back for our next Ball

Andrew Baker MBE (Corporate client)
Musicians for Business Events and Dinners
Music is everywhere. Like or not music plays a part in everyone daily life. You don't have to be a professional musician to come across and appreciate music. Even if you don't set out to listen to music it would be difficult not to encounter music somewhere as part of your daily routine. Turn on the radio or television and within moments it's likely you will hear music.
Music is often playing in shops whilst across the country there are countless street musicians and entertainers ready to play or sing you a tune.
It follows therefore, that music plays an important part for any business dinner, or formal corporate event. Yes of course you could very well just make a spotify play list. But is it ever that simple? Who is going to actually make the playlist. Then even assuming you have one or more playlists which are the right length for your event, what will you play it on – does the venue have a sound system or will you need to bring one? Who will then be in charge of this on night? What happens when you want to make an announcement or have a moment without music for speeches etc?
Lots of questions? This is where live musicians make all the difference. You don't need to worry about anything. In some cases you don't even need to decide or pick music. JAM Duo for example will play a huge range of musical styles and can always put together a suitable set list to complement your occasion.
To find out more about JAM Duo (Cello and Piano) playing for your next corporate event, private party or military dinner, please get in touch via our contact form.
This is just a quick note to say a HUGE thank you for playing for us at the AFCEA TriCyCIS post Conference Dinner at Royal Holloway last Thursday. It was very much appreciated and I've had lots of very positive feedback.

Chris Yorke (AFCEA UK)
Corporate Event at Royal Holloway (June 2022)