Our Gloss Black Piano Shell really enhances the look of our Duo when we are playing for your wedding or event.
---
Click here to add our Piano Shell to your wedding
What is a Piano Shell?
Nothing quite beats the appeal of an acoustic grand piano but if your chosen venue doesn't have one, a portable baby grand piano shell for keyboards makes a wonderful substitute. This clever design has made it possible for everyone to enjoy the glamour of a grand piano.
A piano shell will bring style and prestige to any occasion, giving your event the 'wow' factor. And, the great news is, unless you look very closely both you and your guests would never know it wasn't a real baby grand piano!
Cello and Piano Duo at Your Wedding
Weddings are all about glamour. JAM Duo have played at enough weddings to know that whilst the bride must never be upstaged, how everything else looks really matters! This is why we give all our couples the option to add our beautiful piano shell to hide our Yamaha Digital Piano but give you the same beautiful piano tone.
Sounding Fabulous and Looking Great
Our Piano Shell combined with either the Acoustic or Electric Cello will really enhance the look of JAM Duo at your wedding. Particularly popular during the ceremony, our piano shell can also be moved from one part of your venue to another if we are playing for the drinks reception, wedding breakfast and / or first dance.
Piano Shell at Your Wedding
JAM Duo do not hire out their piano shell unless you have booked them to perform. However if you would like to add our piano shell to your booking, either click here to purchase online or get in touch with us to let us know.
The Beauty of the Piano Shell
The two pictures below gives you a comparison of our Duo performing both with and without the Piano Shell. Whilst our Nord Stage Piano in itself is, to some at least, a thing of beauty, the Piano Shell does add a touch of glamour and timeless elegance.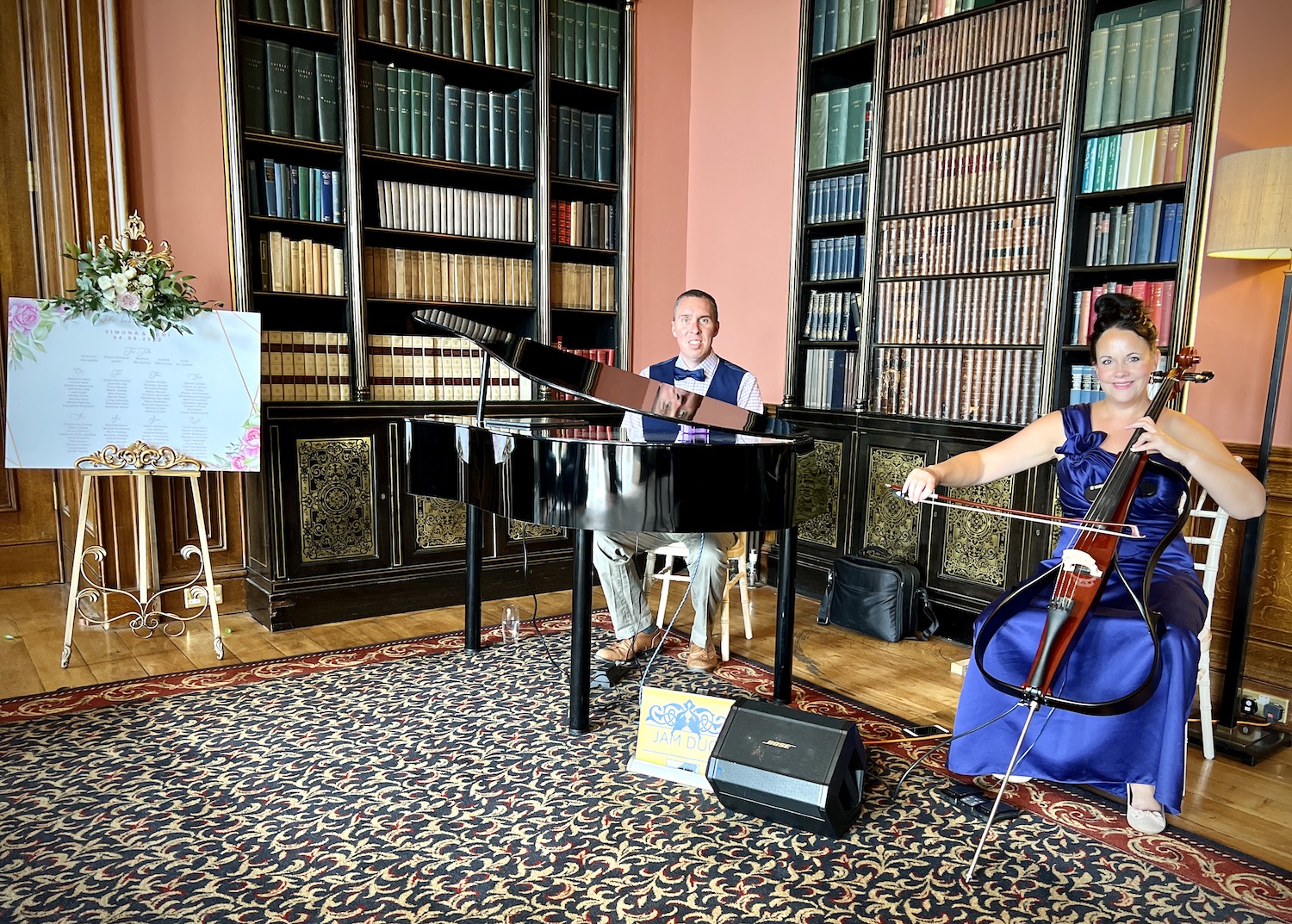 To add the piano shell to your wedding booking please visit our online shop