If you are a horse type person then Newmarket could be regarded as Head Office. Racing in Newmarket was recorded in the time of James I. The racecourse itself was founded in 1636. Around 1665, Charles II inaugurated the Newmarket Town Plate and in 1671 became the first and only reigning monarch to ride a winner.
Newmarket is a place like no other. This stunning, expansive landscape, the largest area of cultivated heathland in the world, is home to both the two world-class courses which comprise Newmarket racecourses and also to the oldest horseracing institution in the world, The Jockey Club.
Against this illustrious backdrop, today we were at the Jockey Club Rooms in Newmarket for the stunning wedding of Ben and Ella.
The Wedding
Ella and Ben
The Jockey Club Rooms, Newmarket, Suffolk
Thursday 12 May 2022
Arriving in good time, we were able to set up easily with help from the venue staff. We were efficiently shown where each part of the wedding was taking place so we could judge whether to use the electric or the acoustic cello. As it turned out a balance of the two instruments was the right solution for today.
The Wedding Ceremony
Our first engagement for Ben and Ella's wedding was to play for their ceremony which was taking place in the Jockey Club Dining Room surrounded by some amazing pieces of equine artwork on the walls.
For the ceremony Anne-Marie was playing her Acoustic Cello with accompaniment on the piano from Jules.
With this wedding being one which had been delayed from earlier times due to lockdown and other such nonsense, the rather appropriate bridal entrance was "At Last" by Etta James.
In fact so keen was Ella to 'get on with it' she arrived early and for the first time that either of us can remember the ceremony started nearly 15 minutes ahead of the scheduled start time!
The Drinks Reception
After the beautiful ceremony we moved outside for the drinks reception. This was a good moment to swap over to our Yamaha Electric Cello and was also the first outing for our new Bose speaker. Always looking at ways to improve our setup we have purchased a Bose speaker which was designed specifically for acoustic duos and really enhances the tone of the electric cello.
It also runs on batter with a blue tooth option so we can keep the music playing when we take a break. Most importantly it looks tidy, sounds great and requires very few cables which enhances the look of our duo particularly when teamed up with our piano shell.
The drinks reception lasted for around 2 hours and we played a selection of covers as well as some music which Ella had requested – a lot of which came from the Netflix Series – The Witcher.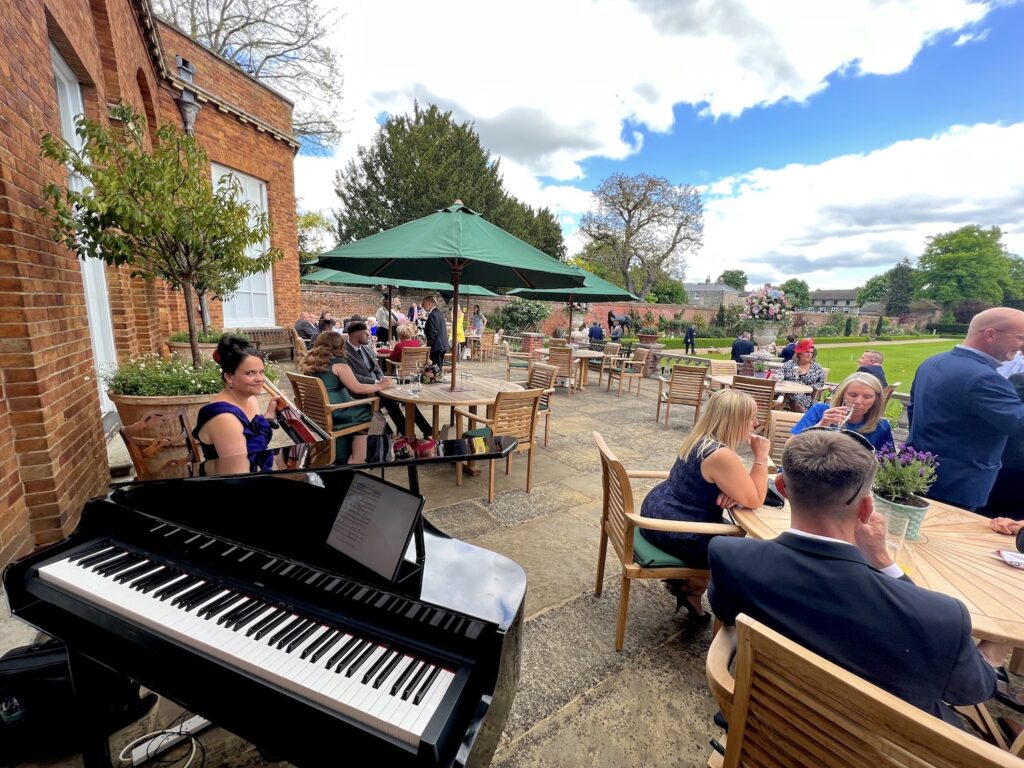 Just before 4pm we moved back indoors, complete with our piano shell and set up to play during the wedding breakfast.
Wedding Breakfast
Whilst space was a little limited, we found a little alcove which fitted our piano shell and were soon playing again as guests enjoyed what looked like a rather splendid meal at The Jockey Club.
After playing for another 90 minutes we were then ushered into the dining room where Ben and Ella had kindly laid on some food and drink for us before we embarked on the 4 hour drive home.
We also watched with envy as a cheese tower was constructed. AM had to be restrained in order not to start nibbling at the cheese!
JAM Duo – Wedding Musicians in Suffolk
Jules and Anne-Marie regularly travel around the country playing at weddings and we would absolutely love to play for your wedding. If you would like to find out more please get in touch via our contact page.