Surprisingly as we have travelled most of the UK over the last couple of years playing for weddings and events, this was our first trip to Ipswich. Arriving in good time we even found an opportunity to have lunch before the wedding as it was a 2pm 'kick off'. Lunch took the form of a buffet in Pizza Hut, so perhaps not our most stylish attempt at lunch. But nevertheless beats a sandwich from a motorway service station!
The Wedding
Gina and Sam
Hintlesham Hall, Ipswich, Suffolk
9 September 2022
On arrival at Hintlesham Hall, we were able to park right outside in order to unload into the ceremony room.
The Venue
Dating back to the 1400s, Hintlesham Hall is an impressive building with traditional decor, which is steeped in history.
Hintlesham Hall is used today as a plush four red star hotel serving award-winning cuisine. Extremely popular for weddings – large and small, and an excellent venue for corporate hire, the Hall is an impressive and versatile grade l listed building nestled in the tranquil Suffolk countryside. A little spot of luxury in beautiful surroundings, only an hour away from Stansted airport and a short drive from Ipswich town centre, the Hall offers a fine dining experience, one-of-a-kind stately bedrooms, stunning views and our own small, but perfectly formed, spa for a little more added luxury.
The Wedding Ceremony
Starting in the beautiful ceremony room Gina and Sam had chosen some lovely music for their ceremony.
Pre Ceremony
Can't help falling in love with you (Elvis)
You Raise me up
All of Me – John legend
A whole new world (Aladdin) * time dependant option to drop if no time*
Tale as old as time (Beauty and the beast)
1000 years Christina Perry (Please play this last before Can you feel the love tonight).
Bridal Entrance
Can you feel the love tonight (Elton John) for bridesmaids (x6) BLENDED into Canon in D for (Bridal entrance)
Signing
The Scientist (Coldplay) -arranged for Cello and Piano
The Cave- Mumford and Sons
Exit
Somewhere of the Rainbow
Blended Songs for the Entrance of the Bride
This was another one of our 'blended' bridal entrances where we play one song for the entrance of the bridesmaids, seamlessly blended into another song for the entrance of the bride. This is proving enormously popular nowadays and something which is unique to JAM Duo. Using our ability to improvise we can transition from any song in any key into any other song. This is all done live and at exactly the right point to match with the point the bride is ready to enter. You don't have to worry about rehearsals or timing your walk. We can change the music seamlessly at any point no matter what! This is just one benefit of professional live musicians!
Music for the drinks reception
As the weather was changeable, the drinks reception was mostly indoors. This meant we didn't have to move far from our original position in the ceremony room and were soon providing music whilst the guests enjoyed champagne and other delights.
Gina had given us a list of songs to be played during the drinks reception:
Stand by me
Sky full of stars-Coldplay
Africa Toto
Sweet Disposition
Dancing in the moonlight
Everglow- Coldplay
I say a little prayer for you
Taylor Swift – Love Story
Better Together – Jack Johnson
Paradise Coldplay
Ed Sheren – Perfect
Together in Electric Dreams
Moon River
L.O.V.E. Nat King Cole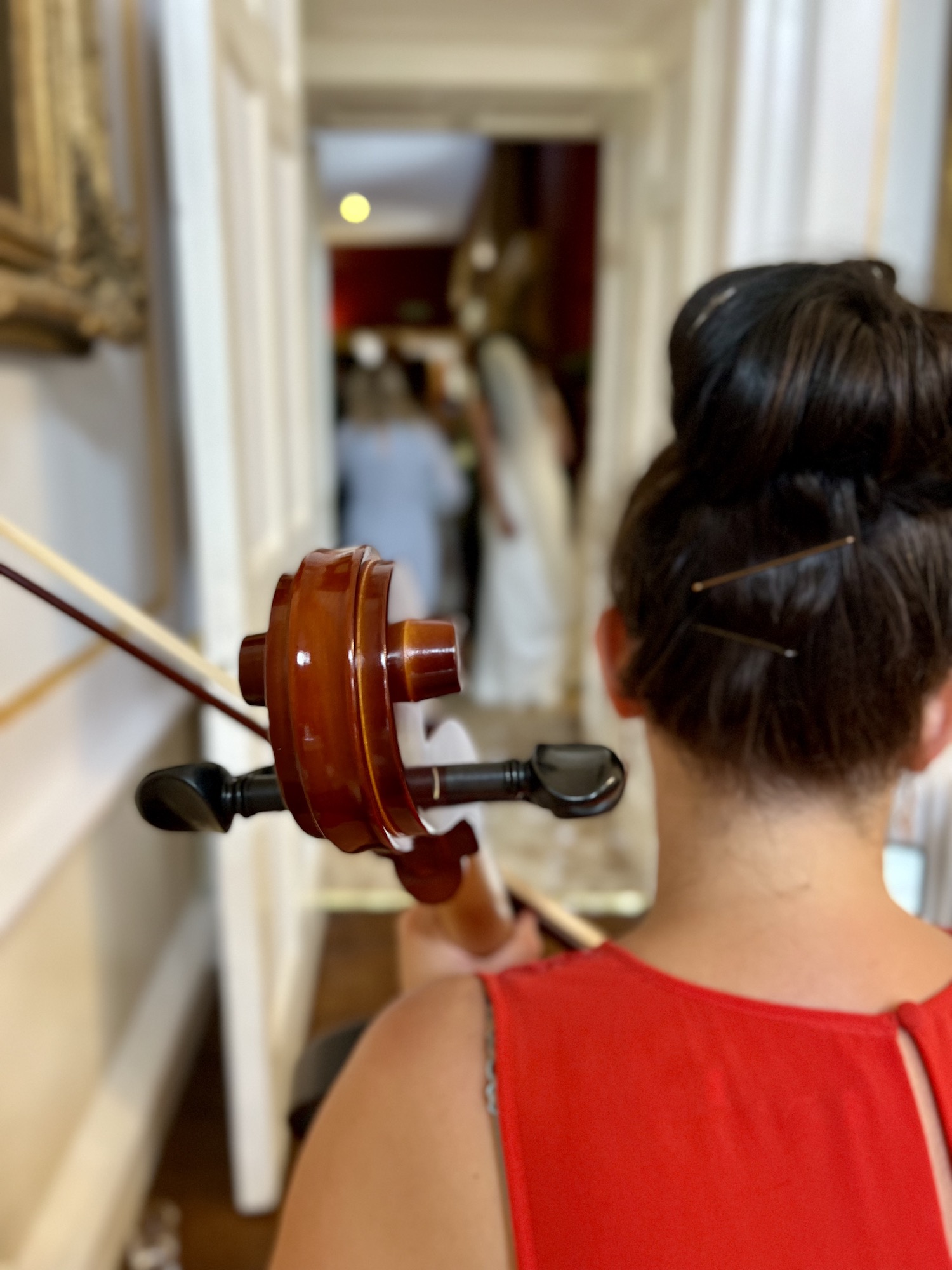 We had a lovely day at Gina and Sam's wedding and we wish them every happiness in their future married life together.
If you are thinking of having live musicians at your wedding then JAM Duo would love to hear from you. You can get in touch with us in various ways by heading over to our contact page.